About Us
Welcome to Starled Technology! We are a leading provider of LED lighting and technology based in Singapore.  
WHO WE ARE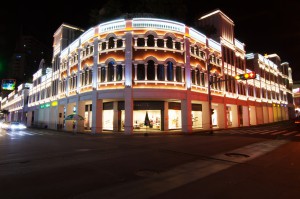 Founded in 2005, our company is a forerunner in the LED lighting industry. We have witnessed first-hand the transformation of LED technology and the growing adoption of LED as the energy efficient illumination solution for the world.
We hire the most qualified manufacturers and suppliers in Taiwan and China. Our #1 priority is to provide our customers with only the best in high- quality lighting solutions.
We serve residential and commercial customers throughout domestic and international markets. Whether you need affordable, low maintenance or eco-friendly lighting solutions, you are definitely in the right place.
We're an established company with a well-known reputation for providing outstanding service to our customers in domestic and overseas markets. We provide our customers with the most up-to-date technology and well-designed lighting solutions.
We also offer reliable one-stop lighting supply services and professional installation services for residential, industrial, commercial, retail, F&B, religious organizations and education institutions.
Some of our projects include:
• Sakura Nana Thai Seafood Restaurant
• The 50s Entertainment Pte Ltd in Singapore,
• Fortuna Hotel in Vietnam
• Sri Veeramakaliamman Temple in Singapore
• Zhongshan Shopping Mall Xiamen, China
• 1855 Bistro in Singapore
To learn more about how we can help you with your project, contact us today!
Our CommitmentTo Our Customers
Here Is What We Commit To Every One Of Our Customers Who Shop With Us.
Great Service
We are always ready to provide you with our best service and value, and strive to exceed your expectations with every interaction.
Great Expertise
We know lighting inside out! Whether you're planning a project tender or interior re-decor, reach out to us for the most honest advice you'll find in the industry.
Great Professionalism
We know you stay with us because of our commitment to quality workmanship. If you are not completely satisfied, let us know and we will make it right.